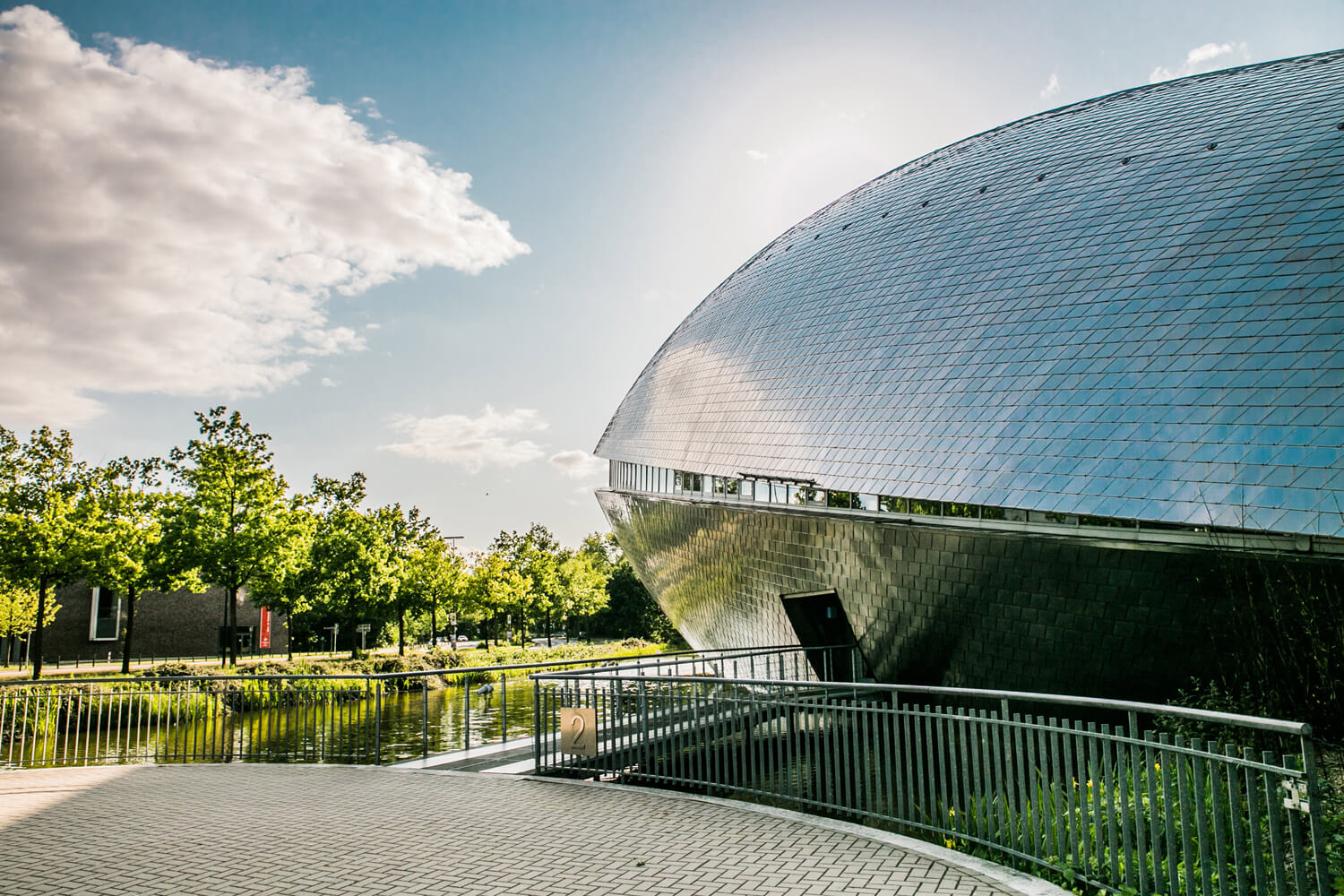 1.) What are the opening times?
Monday: closed
Tuesday to Friday: 9am – 5pm
Saturday, Sunday, Holidays: 10am – 6pm
2.) Must visitors wear a face mask?
Please bring your own face mask for your visit. For safety reasons, all visitors are required to wear a face mask while at the exhibition (exceptions: children under 7 and people who cannot wear a face mask for health reasons). Face masks must also be worn in the outdoor area. If you don't own a face mask, you may purchase one from our small supply.
3.) What safety precautions have been taken?
Just like visitors, our employees will also wear face masks in the exhibition. Our staff has also been trained to comply with the new guidelines put in place due to the coronavirus pandemic.
Universum® has created a linear tour with a prescribed route for visitors to ensure they can maintain a safe distance from one another. We ask our visitors to keep a minimum distance of 1.5 metres from others and to cough and sneeze into a tissue or the crook of their elbow. Because of hygienic reasons, we are currently not allowed to provide lockers or cloakrooms.
We have also installed disinfectant dispensers on each floor and additional disinfectants at various stations and exhibits.
Like in other places, only a limited number of people is allowed in the Universum® exhibition at any given time (see question 4). Exhibits with special challenges (see question 6) are currently not accessible. Our ventilation system has been adjusted in accordance with the guidelines.
4.) What is the maximum number of visitors allowed into the exhibition?
We must ensure that only a limited number of visitors are in Universum® at any given time. The maximum number of visitors is based on the overall size of the exhibition area. How large a group of visitors is allowed to be depends on the size of the household and the adapted guidelines issued by the senate of Bremen. Due to these regulations, visitors may have to wait to enter. We apologise for any inconvenience.
5.) How do I buy tickets and enter the exhibition?
Tickets can be purchased in advance from our online shop. This also applies to holders of annual passes. Your timed entry slot is valid for 45 minutes (for example: timed entry booked for 11am, admission possible until 11.45am).
Good-evening tickets (valid 1,5 h before closing time) must also be purchased in advance online.
6.) Are all exhibitions accessible?
The majority of our exhibitions continue to be accessible to our visitors.
Stations that are explored using your eyes, nose, or mouth are temporarily closed for safety reasons.
Exhibitions that can be explored by multiple people can only be used by members from one household at the same time.
All visitors will be given a touch pen so they do not need to touch the screens at the stations with their fingers.
As a small concession to our visitors, Universum® is reducing the ticket price by 10 percent (cannot be used in combination with other discounts).
7.) Is the outdoor area open?
At the moment, the outdoor area is open for free. The "Turm der Lüfte" and several other exhibitions are closed for safety reasons.
8.) What will happen with annual and daily passes?
Holders of annual and daily passes will automatically receive an extension on the validity of their tickets equal to the period during which we were closed (68 days). No action is needed to receive this extension.
9.) Are the restaurants open?
The restaurants – both the KUBUS restaurant in the building for special exhibitions and the Café Jonas in our building for permanent exhibitions – will be open in accordance with the new regulations and guidelines. Opening times may differ.
10.) Is the shop open?
Our shop is open. We will of course ensure that the number of people in the shop is restricted to comply with regulations. The opening times may differ from those in the rest of the building.
11.) Will science shows continue to take place?
For the time being, no science shows will take place.
12.) Can children's birthday parties be booked?
From 20th July, you can once again book the Researcher's Party. Seven children and a maximum of two adults oder eight children and one adult may participate. To book or for further information, please contact us on +49 (0)421 / 3346-0 or send an email to info@universum-bremen.de
13.) When will the next talk take place at Universum®?
Currently, we do not know when the next talk can take place at Universum®. But this much we can say: you can look forward to a digital edition with some of our previous guest speakers. You will hear from us as soon as a date has been set!
14.) When can events in the dark (café and dinners) be held?
Here, too, we do not currently know when we can hold our events in the dark. No date has been set for when they can resume.
15.) May schools/nurseries visit Universum®?
We are looking forward to welcoming you again. To book or for further information, please contact us on +49 (0)421 / 3346-333 or send an email to info@universum-bremen.de
16.) When will KLUB UNIVERSUM resume?
Our KLUB UNIVERSUM event series for people who work at schools will initially resume in digital format as a podcast. You find further information on the klub-universum.de website.
17.) Can rooms now be booked for events at Universum?
The rooms at Universum® can be booked as of May 20. The current guidelines (physical distancing, maximum number of participants) must be complied with.
Please protect your health and be considerate of others. If you do not feel well, please stay home and visit us another time.
We have missed you!